We had a wonderful stressful Christmas. For the first time since we have been married we went to Temecula for Christmas Eve. We started the day with the Neilsons. Heidi and Dave hosted 70+ at the church. It was a great place to have a party! It was great to see almost all of Jeff's cousins we hardly ever get to see the married ones!!
After that we went to Cari and Sam's to be with my family we got to Skype with my grand parents and the boys got to play with there cousins!!
Here are my instagram pictures. Maybe someday I will get to posting the ones from the real camera!!
New Christmas PJ's Rhys was tired and done with us at this point!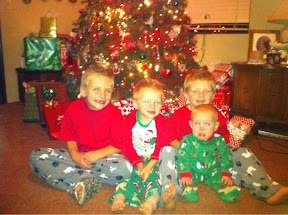 My mom bought Rhys this Santa suit it is very similar to the one Noah had at this age!
We took Jeff's family over to see the new house! Can't wait. We should be moving in very soon!!
- Posted using BlogPress from my iPhone