The boys started school in September. They were so excited to get back and I was even more excited to have some sort of routine.
We have started a tradition of letting the boys choose what they want to have for breakfast on the first day of school. Sawyer chose cinnamon rolls and Noah chose blueberry pancakes..,, although he quickly decided he doesn't like real blueberries in his pancakes :).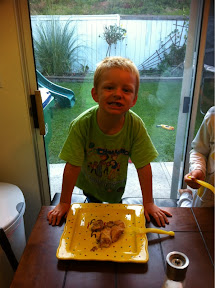 Sawyer right before he flipped out. It was the weirdest thing he went to this school last year and was talking about it for weeks but freaked out screaming running away from the teacher and climbing through the car window. Yeah. CRAZY. Finally he calmed down and with the promise of McDonalds and a light saber he went. Thankfully he has been fine since!!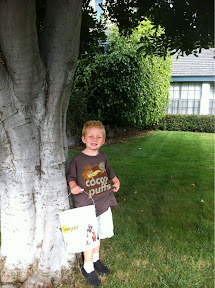 Ryder is so sad to not be doing anything he is completely potty trained and asks everyday when he can go to school. It is so sweet.
We really lucked out for Noah this year he got an amazing teacher. He is working so hard and loving going which is a huge step forward after last year. He has a lot of catching up from not having a great teacher last year but thankfully he has a wonderful teacher and aid who are able to pull him and the 4 other kids who were in his class last year an help them. It is so sad that they have to do that but we are so grateful for a wonderful start!
- Posted using BlogPress from my iPhone